We are currently redeveloping an existing derelict site known as the Alfa Laval Tower. Occupying a prominent position along the A4.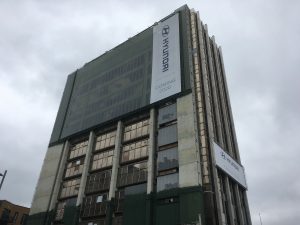 the redevelopment of this site for the proposed showcases building for Hyundai will provide the following benefits;
Provide a well designed, landmark building in this prominent location.
Introduce a sustainable use for this environmentally constrained site.
Improve the street scene and urban realm with a well detailed, high quality, contemporary building.
Provide an energy efficient and sustainable development which incorporates the re-use of an existing building as well as the development of new build.
Contribute to the commercial frontage along Great West Road.
We are redeveloping the existing derelict site in a manner which is consistent with the wider development objectives, significantly enhancing the visual appearance of the dilapidated building.